K Club Warehouse // July 09, Opera Club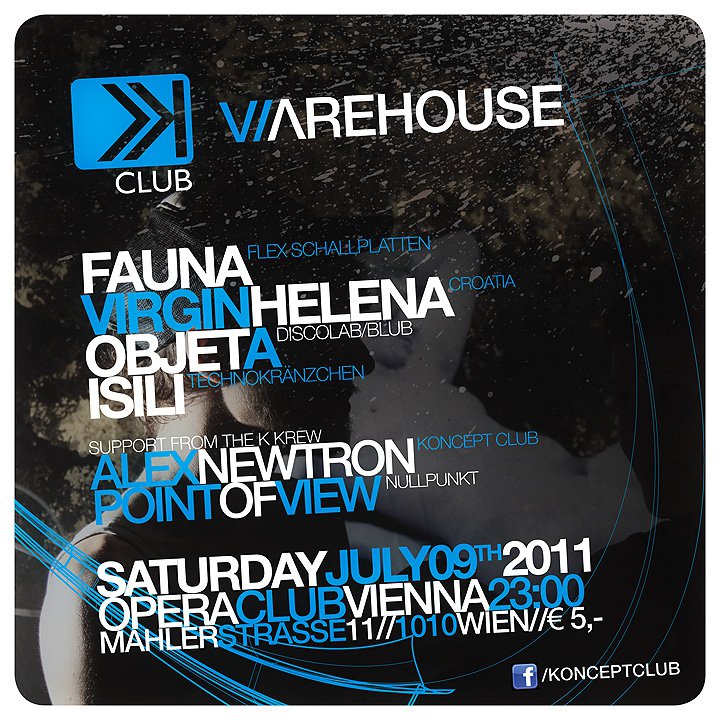 Opening the WAREHOUSE of the 21st century, leaving behind the loveless Minimal-Techno-all-the-nite concepts, we're bringing back that deep and progressive sound into prime time that others banned into the afterhour. Open your mind and we'll take you on an endless journey through the essentials of
international audio couture…
KONCEPT Club is an urban refuge, a 100% 'scene' bullshit free environment where free spirits mate to wicked music.
Full drive, zero ripoff. Next destination: the most promising new club in the center of the city. Hard drinks, incredible sound,
best vibes, fair price. Let's go!
/// LINEUP
Fauna (Flex Schallplatten)
Virgin Helena (Croatia)
objet a (DSCLB/Blub)
Isili (Technokränzchen)
Alex Newtron (KONCEPT Club)
pointOfView (NullPunkt)
/// TIMESTAMP: Saturday July 09, 2011 23:00h
/// WHERE: Opera Club Vienna, Mahlerstraße 11, 1010 Vienna [Google Maps]
/// ADMISSION: € 3,- till 00:00h, € 5,- after
Welcome shots for the first 75 guests!
Dress optional.
Truly yours,
Big K
We work in the dark,
We do what we can,
We give what we have,
Our doubt is our passion,
And our passion is our task.
The rest is the madness of art.
– Henry James